BACK TO OVERVIEW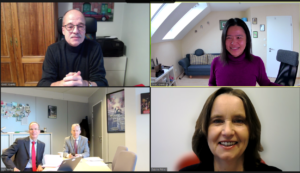 On December 15 we were able to welcome some 50 people from around the globe who had registered for another Business Council webinar, this time on the Free Trade Agreement between the EU and Australia featuring the EU Chief Negotiator, Mr Christophe Kiener and Mr Nils Weller, the coordinator for the EU trade negotiations with Australia.
The topic, the Free Trade Agreement is, of course, very topical. In the current climate of ever changing and shifting trade relations and severe disruptions of supply chains, it is important to have reliable and like-minded partners. While the UK and New Zealand have marched ahead, concluding free trade agreements with Australia and the EU respectively, negotiations on the EU-Australia free trade agreement have recently resumed which gives reason to hope that it may be concluded in the near future.
Mr Kiener shared many insights into where the alignments between the EU and Australia are close… as well as those areas where work has still to be done. He did express the hope that the main topics could be concluded by the end of 2023, but also pointed out that all governements – in the EU that would be 26! – would then still have to ratify the agreement, a process that could take a while as well. As these agreements in general then tend to stand for several decades this investment in time is, however, considered well worth while by both parties.
Participants fielded many a great question which Mr Kiener was able to expand on so that the full hour set aside for the webinar was well and truly filled.
As the topic will still be relevant for a while, it is planned to provide an update with another online or even in-person event in 2023.
https://gabc.eu/wp-content/uploads/2022/12/Screenshot_FTA-1222.png
720
1249
Suzanne Heim
https://gabc.eu/wp-content/uploads/2014/12/Logo_website-300x93.png
Suzanne Heim
2022-12-23 06:52:19
2023-02-14 13:12:20
Free Trade Agreement Webinar, December 2022