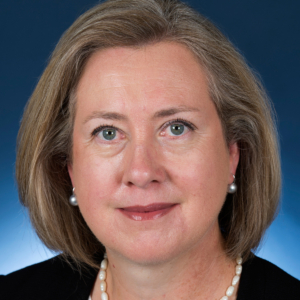 Lynette Wood
Australian Ambassador to Germany, Switzerland and Liechtenstein
I am delighted to take on the role of patron and support the German Australian Business Council. The German Australian Business Council is an excellent forum to bring together Australia's expatriate business community in Germany as well as German business with interests in Australia. It plays a very important role in enhancing the strong trade and investment relationship between Australia and Germany. I'll be delighted to contribute to making the business ties between our two countries even more dynamic.
The Embassy and I are very much looking forward to our continuing cooperation with the German Australian Business Council and I look forward to meeting you all.
GERMAN AUSTRALIAN BUSINESS COUNCIL
Anna Fedeles
Consul General, Frankfurt and Trade Commissioner Germany, Austria, Switzerland & the Netherlands
The Australian Trade and Investment Commission enjoys a close relationship with the German Australian Business Council based on our mutual goal of supporting and promoting business and investment relations between Germany and Australia. The German Australian Business Council offers a forum for intelligent discussion of key issues impacting trade and investment, in addition to providing networking opportunities among industry professionals. The organisation is growing both in terms of its sponsor numbers and most importantly in the influence it has in European markets. We are pleased to be involved in and support German Australian Business Council initiatives.
GERMAN AUSTRALIAN BUSINESS COUNCIL