BACK TO OVERVIEW
On the 3rd and 4th of May, 2019, representatives of the ABIE groups met in Sofia to discuss how to further improve their collaboration in terms of activities and events. The meeting was organized by BABC (Bulgaria) with participants coming from Bulgaria, Czech Republic, France, Germany, Spain and the UK. The European-Australian Business Council, Belgium, Luxembourg and the Netherlands participated via telephone.
Andrea Biggi, Deputy Head of Mission from the Australian Embassy in Athens, joined the dinner on Friday and the full meeting on Saturday to discuss the EU-AUS Free Trade Agreement, which is still in the negotiation phase. ABIE groups were asked to give their country-specific input to the team. A common submission from all ABIE groups is planned for June 2019.
In addition, the international network of Australian Business in Europe (ABIE) organizations will host a briefing on the status of the negotiations for the EU-Australia Free Trade Agreement in Brussels on the 4th of July, 2019. This meeting will outline the opportunities and challenges facing export-oriented businesses from multinationals to SMEs and will allow the opportunity to contribute your perspective to the process through questions and feedback. The briefing will be given by Australia's lead negotiator, Alison Burrows, Special Negotiator EU-FTA, Office of Trade Negotiations, Department of Foreign Affairs & Trade.
The common website www.abie.eu  is an excellent platform to share information internationally and has been well received by members across Europe.
GABC Board members Sabine Pittrof and  Eberhard Goihl attended the meeting and summarized it as a well-structured and very effective base for further activities.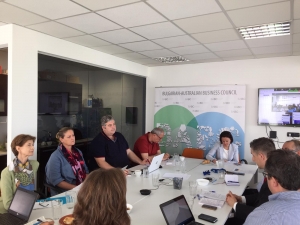 https://gabc.eu/wp-content/uploads/2019/05/IMG-20190504-WA0003.jpg
1200
1600
Suzanne Heim
https://gabc.eu/wp-content/uploads/2014/12/Logo_website-300x93.png
Suzanne Heim
2019-05-09 15:26:41
2022-01-14 12:27:04
ABIE International Networking meeting, Sofia 03./04. May 2019