BACK TO OVERVIEW
The Australian Football League Germany (AFLG) has been around for almost 20 years, however it has only been made up of male teams. This has started to change in 2018 as women's football has been introduced in to the country and is starting to grow. In April, a Hamburg Dockers representative team, made up of women from across the whole of Germany, played in the Champions League Tournament in Amsterdam, lining up against teams from the UK, France, Denmark & Sweden. This was a fantastic launch for women's footy in Germany and a great advertisement for the sport. It also gave the new players to the sport a great flavour of what it is all about. The speed and excitement of the game, the sense of camaraderie between teammates and also the amazing and unique community that surrounds Australian Football in Europe.
The AFLG includes clubs in Berlin, Cologne, Dresden, Frankfurt, Hamburg, Munich and Stuttgart (plus a new club in Leipzig) with all clubs welcoming women. Since the Champions League tournament, a number of 'Come & Try' sessions have been held around the country to introduce women to the sport. We have attracted women that have traditionally played handball or Fußball and they are really enjoying the different skills that the sport requires; catching, kicking, tackling, speed & agility. Numbers are starting to grow and so two exhibition games have been held in Berlin & Hamburg, the first ever Women's Australian Football games held on German ground.  The next fixtures will be back in Berlin, Dresden and Cologne and hopefully across the border in Prague.
The biggest challenge we face with recruiting women (and men too) is the complete lack of knowledge of the sport, as it is only played professionally in Australia. With a big competition of other sports women can play in Germany, as mentioned previously namely handball and Fußball, it's hard to win women over to a sport not many people have ever heard of before. However, the intensity, the contact and speed of the game make it so exciting that normally once a female plays her first game, she is hooked for life!
With the growth in Women's football here, the aim is to take the first German National Women's Team to the Euro Cup in Cork, Ireland in October this year. There is already a strong contingent of German women in place who will be hoping to play for the team as they make their debut. The Euro Cup has featured women since 2010 and 2018 will be the biggest year yet with women's teams from 9 nations attending; Croatia, Denmark, England, France, Ireland, Scotland, Sweden, Wales. It will be a fantastic experience for German women to represent their country.
The next steps are to finalize the National team name, logo and get the kits designed. Due to the nature of the sport, all financial aspects are self-funded by players or generated through fundraising campaigns. Therefore, the team are looking for a sponsor for their inaugural kit which they would wear during their debut in the 2018 Euro Cup (and future events in the next few years). They are looking for a company or individual that would be interested in supporting women's sport in Germany and to sponsor the kits, in return getting their logo emblazoned on them. The team would also be interested in multiple sponsors, for example; sponsor for the top and sponsor for the shorts. If you are interested and would like to find out more, please contact Women@aflg.de.
If you are interested in trying out Australia's most loved game, or know someone that would be then get in contact with your nearest club by messaging @AFLGermany on Facebook. To find out more about the growth of women's footy in Germany, and to support us on social media, please like/follow the @AFLGWomen pages on Facebook and Instagram.
Lisa Wilson- AFL Europe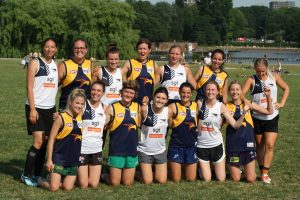 https://gabc.eu/wp-content/uploads/2018/07/AFLG-Women-2.jpg
1280
1920
Suzanne Heim
https://gabc.eu/wp-content/uploads/2014/12/Logo_website-300x93.png
Suzanne Heim
2018-07-16 09:48:37
2018-07-16 09:48:37
Women's Australian Football kicks off in Germany!