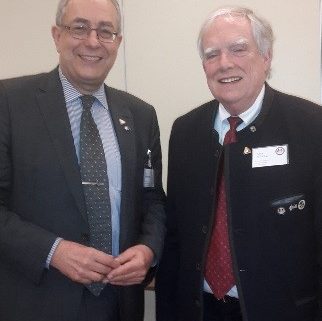 In 2017, the International Business Council Munich (IBCM), a business networking forum that brings together members of 16 international business organizations active in the Munich area was launched. The IBCM's mission: "To combine the strengths of the participating IBCM groups in joining for business events of mutual interest and in addressing topics of common interest.  An umbrella organization, the IBCM provides an organizational interface, supports the sharing of ideas, facilitates making new business contacts, and stimulates learning."
The International Business Council Munich (IBCM) held a Kick-off Event on Tuesday, 13th March 2018.
The event featured Keynote Speaker Dr. Wolfgang Hübschle, Executive Director, Invest in Bavaria with "Disruptive Technologies and the Effects on Local Marketing".
Afterwards each IBCM organization provided a 2-minute elevator speech on its group's key features and upcoming events. GABC board member Elisabeth Opie gave an excellent overview of our business council, including its mission statement and outreach.
More than 100 guests enjoyed a buffet dinner with networking in the foyer. In parallel, members of each organization were available for informal discussions on their respective groups.
The currently participating 16 IBCM organizations are:
Anglo Bavarian Club (ABC)
American-German Business Club Munich (AGBC)
Chinaforum Bayern e.V.
Deutsch-Französischer Wirtschaftsclub in Bayern / Le Club
Deutsch-Japanische Gesellschaft (DJG) in Bayern e.V.
Deutsch-Japanischer Wirtschaftskreis e.V. (DJW)
Deutsch-Kanadische Gesellschaft e.V. (DKG)
Deutsch-Niederländisches Geschäftsforum e.V. (DNG)
German American Business Association (GABA-California) – Munich Chapter
German Australian Business Council e.V. (GABC)
German-Indian Roundtable (GIRT)
German Malaysian Round Table (GMRT)
Irish Business Network (IBN)
Münchner Kreis (MK)
Österreichisch-Bayerische Gesellschaft e.V./Austrian-Bavarian Club (ÖBG)
Professional Women's Network (PWN)
https://gabc.eu/wp-content/uploads/2018/03/GABC-munich-event-1.jpg
583
322
Elizabeth Matters
http://gabc.eu/wp-content/uploads/2014/12/Logo_website-300x93.png
Elizabeth Matters
2018-03-14 16:39:26
2018-03-14 16:39:26
German Australian Business Council meets International Business Councils Munich